I will be offering individual raw fleeces for sale from this spring's clip. Shortly after shearing I will post weights to the web page along with close-up photos of the surface of each fleece and samples of individual locks/staples.  The coated fleeces will be skirted to sell just the area covered by the coats.  Unfortunately, due to my inexperience at this, I will not be able to set a per pound price until I see the quality (cleanliness, color, and staple length) of each fleece.  I expect the prices to range from $16/pound for adult off-white fleece (averaged 5.75# per ewe last year; 8# for Edwin and J.C.) to $22/pound for coated black lambs. I'm guessing about 4# each after considering 25% not covered.  *This year the adult fleeces will have 2 weeks' less growth than last – 52 vs. 54 weeks. 
If you care to reserve the "right of first refusal" for any, please let me know.  I am reserving Rachel's fleece for personal use.
Here are some close-up photos I took last week of some of the adult black sheeps' coats as a preview.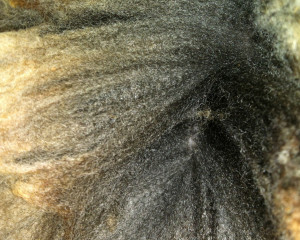 Fergie (Babydoll ewe) 
Butterscotch on surface, dark charcoal at skin
2014 clip stats: produced 6# raw fleece, 62% > 2″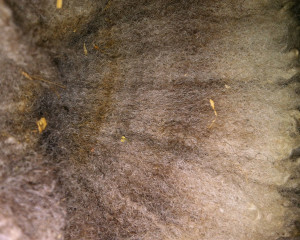 Hattie (Babydoll ewe)
Fading faster than Fergie although same age. 
2014 clip stats: produced 5.4# raw fleece, 54% > 2″, taupe, soft!
Still dark at the skin! 2014 color of main fleece = dark walnut (britch and gray portions, especially from head processed separately)
2014 clip stats: produced 8# raw fleece, 77% > 2″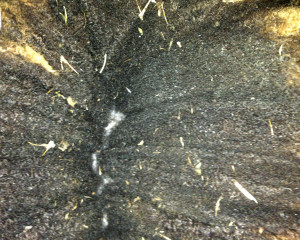 Noir (Shetland wether)
Black at skin, warm chocoate brown at tips.  Full year's coat
Expect serious vegetative matter – will be priced accordingly.
No 2014 data and he's a little dude.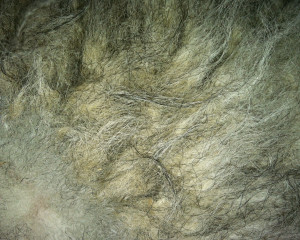 Moonshadow (Shetland wether)
Will be 6 months of growth – clean in spite of his shunning a coat
Examples of what to expect for the yearling ewes:
Nina's 2014 clip stats: produced 5# raw fleece, but 84% of it was > 2″ to yield more skirted fleece weight than any of the adult ewes.  They don't come out of the womb naked, they've been growing their wool for some time already.
Katie's 2014 clip stats; produced 5.75# raw fleece, 65% > 2″.  Caviot… both of these girls were 53 weeks old when shorn for the first time.  This year's crop of lambs will be 51 to 45 weeks old, if I get the shearing date I'm aiming for (1 week before Hattie and Fergie are due to lamb).