Claire led the flock with a lovely ewe lamb on March 30th.  She's been named Olivia and is gaining strength and weight daily. 
Fergie has me scratching my head on this genetics of color issue. She had two ewe lambs on April 9th, one black (Penny) and one white (Paula). Both she and the father are black, though her mother and twin brother are white.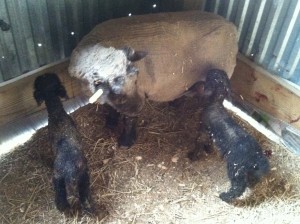 Hattie was a model mother again this year!  At one day in age, her twin ewe lambs, Rachel and Rhonda, were already skipping around as though gravity did not apply to them.  This image is of them as newborns on April 11th.  
 Iris finally lambed on April 15th.  Although she was big enough for three, she just had a set of twins, a ewe (Sara) and a ram (Seth).
Katie gave birth to Tammy Friday, May 9th.  She was a model mother, cleaning her young'un and allowing her to nurse – in that order.  One must be clean before coming to the table, don't ya know!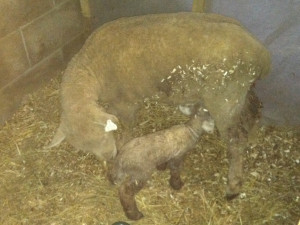 Nina gave birth to Quinn out on the pasture between showers on May 12th.  He's a bit dirty in this photo, but even clean and dry he has somewhat darker legs than some of the other off-white flock members.  Like Seth (registered as Dexter), Quinn went off to Nebraska where all the ewe lambs aren't his sisters. Two off-white ram lambs from Nebraska, Vince and Winslow (pictured elsewhere), took their places.
Leave a comment