I have some boys that need new homes. Two rams that have done their duty here and one wether who requires different management practices from the rest of my flock.
Winslow is a 2 year old registered Babydoll Southdown ram NABSSAR#13264  Codon 171 = RR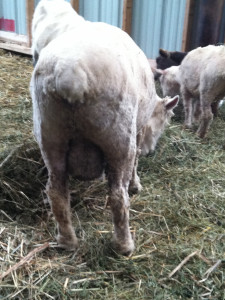 He is 23″ at the shoulder and off-white from a black dam.  He saw limited duty his first year but sired 4 lambs, twins to an adult ewe (ram + ewe) and 2 single ewes to first-time moms.  This year he has sired 5 ewe lambs by 3 ewes and counting (more to come as of 3/31/16).  His first fleece tested at 26.0 microns.  This year's fleece has not been tested, but raw weight was 6#14oz. Has spunk, but after some correction he no longer challenges me.
Asking price for Winslow is $300 – would trade for an equally good black ram.
Moonshadow is a 3-4 year old Shetland wether.
He has a lovely silver coat that I have been shearing twice a year and it sells quickly.  His browsing behavior makes him incompatible with my desire for the sheep to tend my very young orchard.  He's just being a Shetland, but…  I'll sort of miss him – he stays near me when I'm out in the market garden and eats the weeds I toss over the fence to him.
Asking price for Moonshadow is $150.  And, no, I don't want another!
Arlo is a yearling registered Finnsheep ram FSA#27723 Codon 171 = RR
He is brown with white HST markings.  He was assigned 3 ewes this breeding season and only one has lambed to date, a single ewe to a first time mama.  He is amazingly mellow and loves his ear and neck scritches.  No aggression towards me or visitors at all.  His breeding behavior is aggressive – he was servicing Tammy within 5 minutes of being placed in her pen.
Asking price for Arlo is $250 – would trade for another brown registered Finn of equal value.